Moram započeti post u revijalnom tonu ''i tako smo bla bla i ja bili na bla'', kako bi Nick rekao :D
Daklem, i tako smo Nick (
http://nosecondguesses.blogspot.com/
) i ja otišli na reviju donjeg rublja Goldenpoint koja se održala sinoć u klubu The Best.
Once again, zahvaljujemo PRiredbi ne samo na pozivnicama nego i poklonima! :)
Udobno su nas smjestili na jastučiće (lol) u prvom redu i počastili šampanjcem. :D Hrpe fotografa su snimali celebove oko nas s izrazima na licu ''a tko su ovo dvoje?'', to mi je svaki put simpatično. :D
Uređenje Besta je bilo PREodlično, vintage sofe u zlatu i crvenom i crnom baršunu, veliki svijećnjaci, okrugla okretajuća bina..
Sve je počelo maglom i pjesmom C. Aguilere Bourlesque što nam je najavilo pravi mali kabaret, manekenke odjevene u donje rulje različitih profila (od pamučnog ''za spavanje'' do čipkastog), izlazile su u grupama po pet, od kojih je peta u biti bila plesačica, svaka odjevena u crni body, noseći štap i glumeći dominu. Ideja za show je bila dobra samo što su eto, neke manekenke, bile pomalo ''nezgrapne'' na stejđu s par wtf trenutaka, ali neka im je, vjerojatno je do toga da su navikle samo hodati ravno po pisti bez glume i plesa.
Posebnu pažnju ženskog dijela publike pridobilo je par muških modela koji su izvodili neke smiješne pokrete na bini i time izazvali smijeh. Sa cilindrima na glavi i šljokastim mašnama oko vrata su se lijepo uklopili u kabaret temu. Minus nabildanost, al' na to se nitko ne žali :D
Reviju je ''zatvorila'' predivna Nikolina Pišek u plesnoj točci s plesačicama i time priredila odličan finale cijeloj reviji.
Slijede moje loše slike (note to self: KUPITI BOLJI FOTIĆ!!! )

Te službene press slike (PRiredba):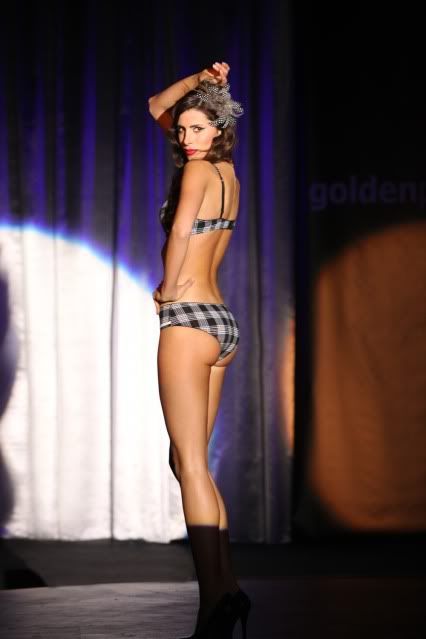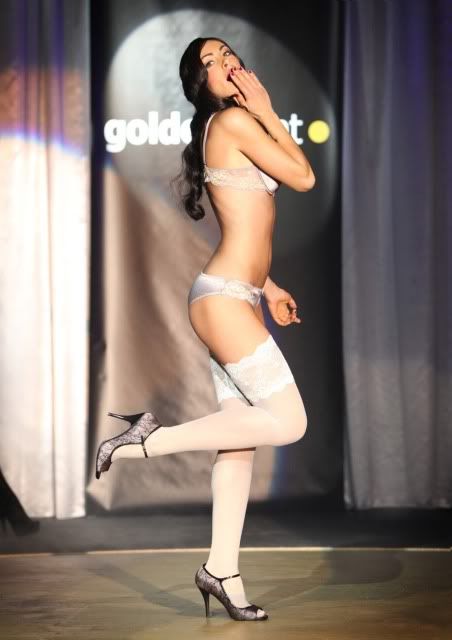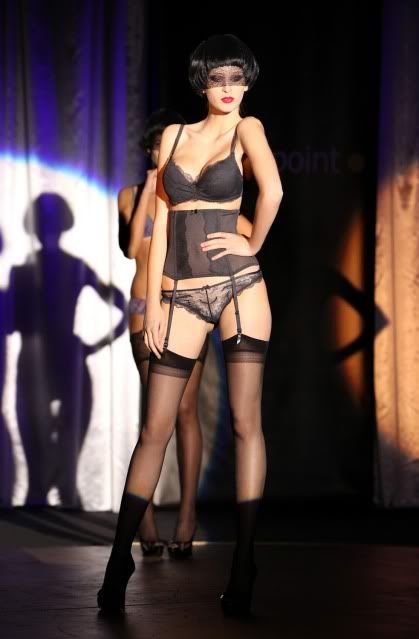 Moj outfit je bio pomalo običan jer sam žurila i kasnila, as usual *facepalm*... Bit će uskoro post s par outfita pa ću staviti i sinoćnji.
I za kraj samo updejt zadnjih novosti, ono što sam zaboravila napisati u zadnjim postovima:
Dizajnerica A'marie mi je poklonila narukvicu, ovim putem hvala na lijepoj gesti! ♥
Pozvana sam na Dreft Fashion Week, skupa sa svim ostalim bloggerima, jedva čekam, bit će to pravo malo bloggersko okupljanje! ♥
Bit će još puno toga u idućim postovima, stay tuned!
Pozdrav,
Ana :***